Tustin Cyclist Accident Attorney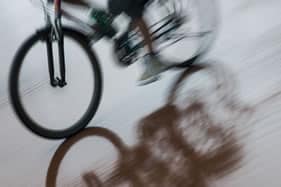 While bicyclists may not face the added threat of highway speeds, these accidents still have tremendous impact on the victims. According to the National Highway Transportation Safety Administration (NHTSA), most cyclist accidents occur at non-intersection areas in the evening hours and a high percentage of these accidents result in fatal injuries.
Many factors contribute to bicycle accidents. Poor road conditions, weather and visibility, dog attacks are major contributors. Motor vehicle operators cause a large percentage of bicycle accidents. Drunk or negligent drivers especially share in causing these accidents. While drivers are required to share the road with bicyclists not all do so properly. Even something simple such as getting out of an automobile can cause a bicycle accident if the driver opens the vehicle door into the bicyclist's path.
In 1999, the University of North Carolina and the United States Department of Transportation conducted a study on the cause of 750 bicycle accidents involving motor vehicles.
The following were the situations which caused most of the 750 accidents:
21.7% – motorist failure to yield the right-of-way at an intersection
16.8% – bicyclist failure to yield the right-of-way at an intersection
12.1 % – unexpected lane changes or turns (often left turns) into the path of a bicyclist
11.7% – bicyclist failure to yield right-of-way at mid-block locations such as residential driveways (typically children)
8.6% – motorist misjudged space needed to safely overtake and pass bicyclist
7.3% – unexpected lane changes or turns (often left turns) into the path of a motorist
Due to the lack of protection, bicyclists have relative to motor vehicles bicycle injuries are often very serious, even fatal. The Insurance Institute for Highway Safety found in 1999 that in 98% of bicycle fatalities the cyclists were not wearing helmets. In 1999 NHTSA recorded 773 bicycle deaths and 44,000 injuries caused by accidents with motor vehicles. Non-fatality injuries included:
Head trauma
Fractures
Spinal cord injuries
Severed limbs
Serious abrasions also called "road rash" that open the victim to infection
Some of these injuries not only rob the victims of their health but also their ability to earn a living and to support their families. Given the nature of these accidents the required medical care is very costly and may continue to be necessary for the duration of the victim's life.
You have rights under the law. Call my office today to schedule a free review of your case from an experienced Tustin cyclist accident attorney.