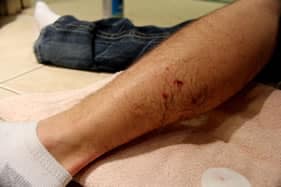 This type of injury can be quite serious, especially if the bites are to the head or face. California is one of the few states that have a Dog Bite Statute, in addition to the typical rules of negligence that apply in these cases. As an experienced Tustin dog bite attorney, I know the statute and the rules necessary to help you get the compensation you deserve.
The physical side of a dog bite injury is painful; the bite can result in puncture wounds, nerve and muscle injuries and even broken bones. Surgery may be necessary as well as long and painful physical therapy. Severe dog bite wounds often leave disfiguring scars requiring plastic surgery which may not always be successful.
There is undeniable emotional and psychological trauma as well. Many dog bite victims develop a lifelong fear of dogs. They need therapy to deal with this fear. Further therapy may be necessary to help victims adjust to living with physical scars if plastic surgery is not completely successful.
In addition to all of the pain and fear victims are often left with huge medical expenses they cannot afford. Most insurance policies don't cover plastic surgery as it is considered cosmetic and not necessary. Victims may also have to pay for therapy themselves due to limits of insurance coverage.
The statute (California Civil Code Section 3342) states: "The owner of any dog is liable for the damages suffered by any person who is bitten by the dog while in a public place or lawfully in a private place, including the property of the owner of the dog, regardless of the former viciousness of the dog or the owner's knowledge of such viciousness."
This is what is known as a strict liability statute. It means that the dog owner is liable for damages caused by the dog. Financial compensation may not reverse the physical and psychological injury but it can ease the financial burden facing the victim.
Victims can be compensated for the following damages:
Medical expenses
Hospital bills
Lost wages
Physical therapy and rehabilitation
Surgery
Permanent injuries
Emotional distress
Pain and suffering
I am experienced in handling these cases. I know the law and I can answer all of your questions. I will explain what you should expect from the process of bringing your claim. If you've been bitten and are facing the challenges of healing and expenses, call my office for a free consultation with a Tustin dog bite attorney.