Tustin Motorcycle Accident Attorney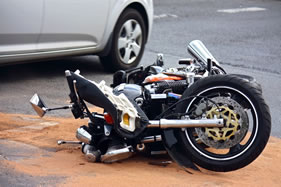 Automobile collisions with motorcycles are extremely serious. Motorcycle riders have little to no protection and travel at the same rate of speed as the automobiles around them. In fact, according to the National Highway Transportation Safety Administration (NHTSA) motorcycle riders are five times more likely to be injured and 26 times more likely to die than other motorists.
No matter how careful the rider many different circumstances cause motorcycle accidents. Inexperienced or fatigued drivers, inclement weather, mechanical failures and automobile drivers who either don't see the motorcyclist or don't know how to properly share the road are all possible causes of motorcycle accidents.
"I had a traumatic motorcycle accident in January 2013. I was represented by an exemplary attorney… His professionalism, tenacity, and sincereness to help his clients are truly reflected in his character resulting in an outstanding professional attorney."
— David (via Avvo)
While California's motorcycle accident laws are similar to those of other states, there are a few California-specific laws. As an experienced Tustin motorcycle accident attorney, I know the intricacies of these laws and how they impact the outcome of your case. You need such representation if you've been in a motorcycle accident.
For instance, California is the only state that allows "lane splitting." Motorcycle riders can share a lane with another vehicle in order to get past slow traffic. While it's legal, there is a police and juror bias against motorcyclists who split lanes. It's important to handle such details carefully. Despite private organizations' efforts to the contrary motorcycle riders in California must wear helmets that meet the requirements of Federal Motor Vehicle Safety Standard (FMVSS) 218. Helmets with "DOT" label are approved by the Department of Transportation.
There are also licensing regulations specific to California. Motorcyclists must first pass a written test for a permit, following which is a road test for the actual license. The permit allows motorcyclists to ride during daylight hours and never with passengers. Failure to follow these restrictions or being unlicensed may be used as evidence of lack of competency as a motorcyclist and open you to comparative fault which may limit your recovery.
The rules governing allowable recovery are different for motorcycle accident cases, too. In addition to medical expenses and lost wages, including future earnings, motorcyclists may recover:
Costs of repair or replacement of the motorcycle
Costs of replacement of aftermarket parts
Compensation for custom work
Fees for rental vehicles
Loss of title and tax if the motorcycle is replaced.
If you or a loved one has experienced injury while riding, learn about your rights under the law. Call us for a free consultation with a Tustin motorcycle accident attorney.