Tustin Slip and Fall Accident Attorney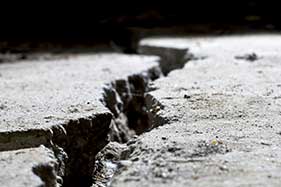 There are federal, state, and local codes delineating a property owner or landlord's responsibility for proper maintenance of their properties. Sidewalks, walkways, parking lots, steps, stairs, and aisles are each treated differently and it is the property owner's responsibility to know the codes and adhere to them. Alas, not all property owners do. The results are slip and fall/trip and fall injuries some of which are quite serious.
Slip and fall/trip and fall accidents are very common. Often they do not cause serious injuries. However they can result in extremely painful lifelong injuries. Even if the injury is only temporary such as a bone fracture, victims may lose wages and incur huge medical expenses.
Slip and fall/trip and fall accidents can happen literally anywhere. They're the largest cause of workers' compensation claims in the nation. They account for approximately half of all accidental deaths occurring in the home. Slip and fall/trip and fall accidents are especially dangerous for the elderly. The United States Centers for Disease Control (CDC) reports that almost one of every three people over 65 falls each year accounting for 1.8 million people treated in emergency rooms for this type of injury.
Injuries resulting from Slip and fall/trip and fall accidents include:
Strains and sprains of the wrists and ankles
Fractured bones
Head/brain injuries
Neck, back and hip injuries that may leave the victim with lifelong chronic pain
Recovering damages in a slip and fall/trip and fall case requires an attorney who is experienced in this area. I have handled numerous slip and fall/trip and fall accident cases. One of the intricacies of these cases is determining the proper liable party. The possible parties include the property owner or manager, a tenant such as a retail store or a government agency responsible for property maintenance.
Once I identify the proper liable party, I focus on proving that the party knew of the dangerous condition and failed to correct it with actions such as placing "slippery floor" signs, repairing broken steps and railings and marking off dangerous areas. It is important at this juncture to determine if the accident was avoidable so that comparative negligence doesn't limit your recoverable damages.
You have rights under the law. If you've been injured due to the negligence of someone else, call my office for a free consultation from an experienced Tustin Slip and Fall Attorney.