Tustin Wrongful Death Attorney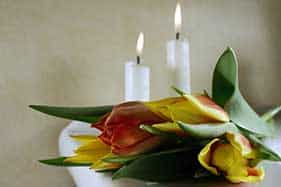 When a loved one dies because of another's negligence the family is stricken by grief. As such they may not be aware that they have an option for recovery. While the justice system cannot return their loved one to them it can and does compensate them for that loss. This may be cold comfort but it gives the survivors the opportunity to grieve and heal without worrying about finances especially if the deceased was the sole provider. It also holds the negligent party accountable for the life they took and the pain they've caused and in some cases prevents the same thing from happening to someone else.
Loved ones can file a wrongful death claim to recover damages in different categories:
Loss of love, companionship, comfort, affection, society, solace, moral support
Loss of consortium if a spouse files the claim
Value of household services, if any, the deceased would have provided in the future
Value of financial support which would have received from the deceased but for the death
Other surviving family members may be able to recover damages for the above except for loss of consortium. The deceased's lineal descendants can file a claim as can the children of one of the victim's deceased children. These claims may be filed jointly or separately.
Others claimants may qualify if they were dependent on the decedent at the time of death. The intricacies of a wrongful death case include identifying those who may file a claim.
Wrongful death cases can be complicated and you need an attorney with experience in navigating the intricacies of such cases while at the same time remembering that you are grieving and worried about your future. This fact is never far from my awareness.
Some of the complexities of these cases include:
Bringing the claim in the name of the heirs or as an estate. If there are several qualified claimants it may be best to create an estate and file the claim on behalf of the estate.
Determining the victim's life expectancy. The victim's health, activities, occupation, lifestyle and age are factors to consider.
Calculating the heirs' amount of lost financial support if the victim was supporting them at the time of death. This involves an examination of the victim's past wages, expected future wages, and job history.
Determining the monetary value of loss of love, companionship, comfort, affection, society, solace, moral support and consortium. This is difficult as these are non-economic damages and cannot be determined by formulas or expert testimony. This largely depends on the experience and preparation of your attorney.
If you have lost a loved one due to another person's negligence, contact my office for a free consultation with an experienced Tustin wrongful death attorney.